JOHN WALLIS WALK, BELLERIVE SHORELINE, 28th AUGUST 2021
By Eva Dunn (Chair of the Hobart Branch of Highways and Byways)
Every year, we try to celebrate Fr John Wallis' great love for the environment with some event staged outside in the natural world. We have had bush walks, picnics, family fun days in a national park, and this year, a "Walk" around the beautiful foreshore of Bellerive. Fingers crossed, we hoped that on the 28th August, the weather would be clement, and the sun would shine for us. As it happened, the day was perfect. We were accommodated in the foyer of Corpus Christi Church, where the kindly parish supplied us with everything we could have required for a successful gathering place and afternoon tea venue. It was both our starting point and our eventual destination after the Walk.
When our forty-one participants had arrived, we had a small sending out ceremony with acknowledgement of country. Mary Williams, our chief organiser explained the three different routes people might chose for the afternoon: easy, a bit longer, longer still. We all set out together with a lot of friendly chatter between old acquaintances and new friends. There were at least eight participants with us, new to the Highways and Byways family. Ages ranged from venerable eighties, down to frisky twelve. The chief hallmark of the event was the joyful buzz of conversation both inside and on the Walk.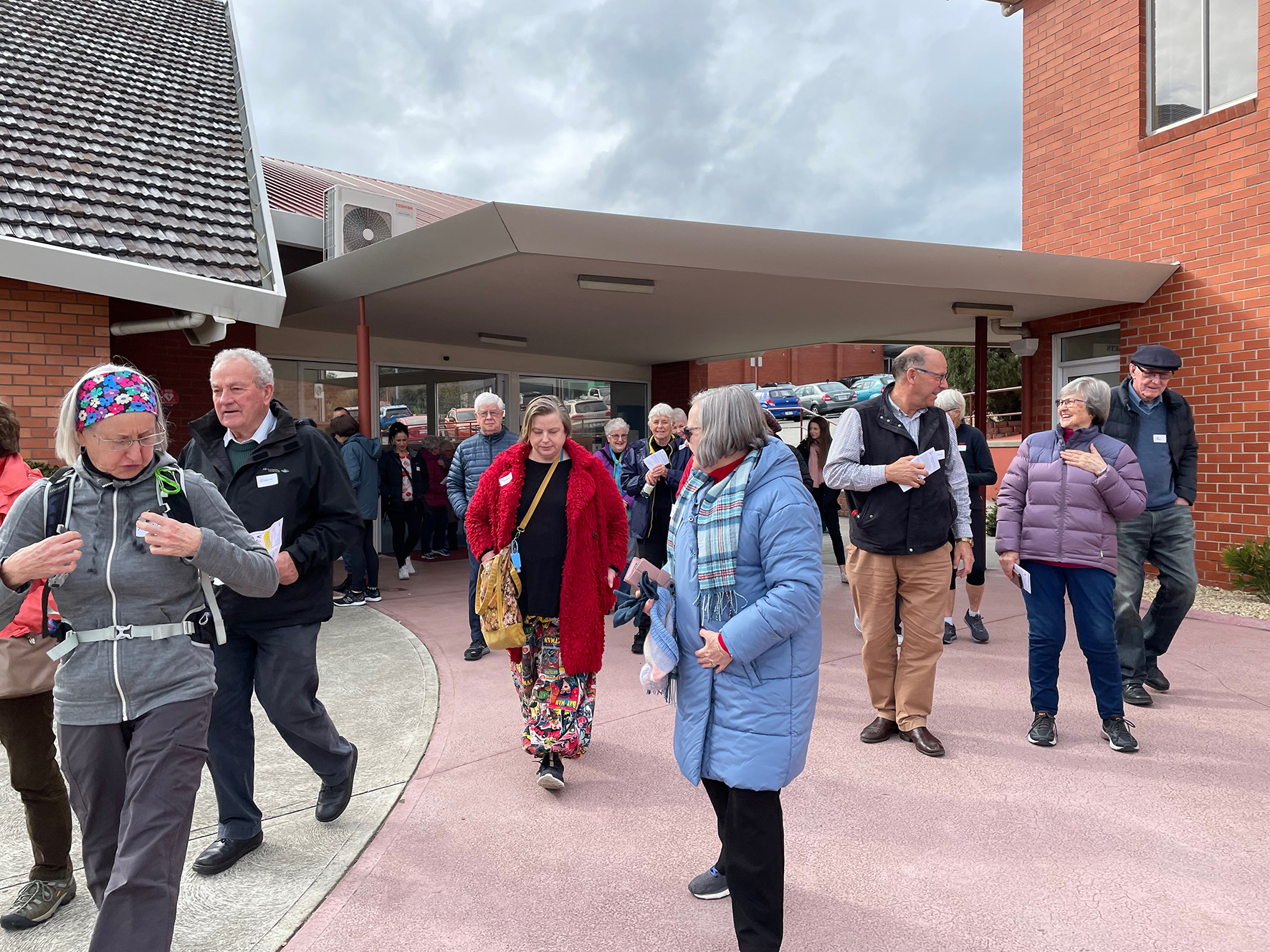 Possibly because we were wearing name tags, we really looked like a coherent group. Quite a few locals, dog walkers mostly, asked who we were and what we were doing. It was a pleasure to explain to total strangers about Fr John, and then invite them for the afternoon tea at the church. They didn't take up the invitation, but they certainly could have. We had an amazing spread of the most delicious food. Sr Lorraine Groves was in charge of the drinks, with Dennis Derrick as her off-sider.
Two things confirmed the success of the event: one was that people stayed on and on at afternoon tea, seemingly reluctant to leave. Secondly, a number of them told the organisers that we should have more of these kind of events, because we were so evidently surrounded by the warmth of community life. Thank you to all the generous walkers  who gave donations to support the work of Highways and Byways on the day.