Dodges Ferry,Tasmania
The honeybees around Dodges Ferry in Tasmania are in safe hands. Extra hives were built at the Okines Community House during a series of five workshops supported by Highways and Byways. As well as educating a new generation of bee lovers and beekeepers, Carlos, one of the twenty-five workshop participants, has now taken over as volunteer carer of the bees.
The five workshops, run by Natural Beekeeping Tasmania, attracted existing beekeepers who were keen to fine tune their skills and learn how to build a Warre style hive, as well as people wanting to learn the craft and start their own hives. Carlos was one of the 'newbies'.
Community House manager Natalie Siggins said the participants who already keep bees developed a network and are now able to better support each other to maintain their hives and maximize bee health and honey production. She said participants learnt about hive types, building a Warre hive, natural queens, pest and diseases, and wintering down.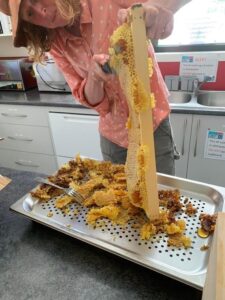 There are now four hives at the community house and they make up an important part of the community, pollinating plants in the community house garden and surrounding flowers, vegetables and fruit trees.
Natalie said one of the highlights was Carlos learning about bee keeping and volunteering to take on care of the bees after the garden coordinator left the position. The hives are producing honey, which is sold through the food co-operative at the community house.
"I had never before tasted honey that was fresh from the hive. It is so delicious," Natalie said.
The hives are also a vital part of the Grow & Learn education program involving grade 3, 4 and 5 students from Dodges Ferry Primary School. Each Friday students come with their teacher to the school's plot at the community garden and learn about plant life, growing food – and the role of bees in food production.
Image (main): Ronnie Voight from Natural Beekeeping Tasmania demonstrates the construction of a Warre Hive.
Image (insert top): A finished Warre hive.
Image (insert bottom): Honey is harvested from a Warre hive situated within the grounds of Okines Community House .