WALKER FLAT, SOUTH AUSTRALIA
A new brush-cutter and pole saw will keep the volunteers of the Walker Flat and Districts Progress Association busy for the foreseeable future.
The group is currently replanting gaps in vegetation with acacia, black box, and mallee trees along a 3 kilometre stretch of roadside reserve between Marne Mouth and the settlement outskirts around Wongulla in south-east South Australia.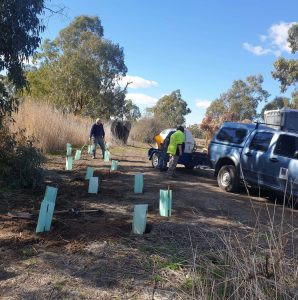 A small grant from Highways and Byways means the Association has been able to upgrade its worn-out equipment.
The 45 dedicated locals who make up the association have been hard at work vegetating and maintaining reserves and roadside in the Walker Flat and Wongulla district – a small community of around 200 residents – for 25 years.
The group is enthusiastic about conserving the local landscape and wildlife habitats and grows native seedlings from local seedstock to replace vegetation impacted by drought and age.
Its weekly working bees are an important social gathering for the community, where disabled and elderly members participate and socialise alongside those who are more active. The group's oldest member is 92 and still enjoys getting involved.
The Association is also providing opportunities for urban youth and is working with an Adelaide-based school to facilitate long term partnership projects. These will involve support for ongoing bush care experience camps where students will be engaged in planting, habitat restoration and erosion control initiatives in the region.
The new tools funded by Highways and Byways are sure then to be put to good use and, as local Rod Dansie says, they are 'going to make life so much easier".