St Helens, Tasmania
Our Restoring Nature and Communities partnership with Todd Dudley's North East Bioregional Network continues to show how good an ecological approach can be for our whole community of life. By employing four locals to restore the land to its natural state, the project provides economic, social and environmental benefits in the remote rural community surrounding St Helen's – the North East Bioregion – where there are high levels of socio-economic disadvantage.
During 2021-2022 the main focus of the program has been the restoration of Skyline Tier, primarily at a location known as Alf's Road. Work has been undertaken to control pine wildlings across 55ha, benefitting approximately 8ha of remnant Eucalyptus ovata forest, a critically endangered forest community. A particular highlight for the workers at the site was the sighting of pair of Tawny Frogmouths, and the uncovering of a live specimen of the Giant Velvet Worm, a listed threatened species in Tasmania.
The crew also worked to protect Eucalypt regrowth at a former airstrip in Skyline Tier, and to contain the spread of Spanish Heath in coastal heathland and forest around Diana's Basin. Thousands of Mirror Bush and Pittosporum plants were also controlled in high quality coastal Eucalyptus globulus forest at the Bay of Fires (Humbug Point Nature Recreation Area and Bay of Fires Conservation Area). Eucalyptus globulus is a threatened forest community and also critical foraging habitat for the endangered Swift Parrot.
During 2022, we were very excited to receive the report of the University of Tasmania's research on our project, Ecological Restoration Activities and the Benefit of Human Health and Wellbeing. In highlighting the specific benefits of the ecological restoration work for Todd's team members – see image below – it's a great affirmation that this ecological approach is working on all levels.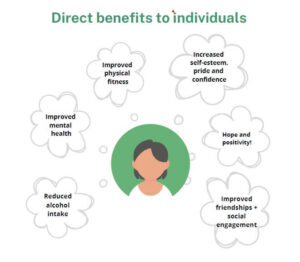 And the workers tell us that too. Scott, who features on the far left of the group image above used to work for the company that burnt down eucalyptus forests in the region, and planted pine trees to get a greater yield. Working for a global corporate company where the money left the local community while destroying the local environment was not very fulfilling work. Scott received average pay, worked long hours and didn't form much of a connection to any of the people he worked with. When he came to the Restoring Nature and Communities project, he was in pretty poor physical and mental health – making his own beer, drinking, and not functioning anywhere near his best. These days, he works on the same land removing pine saplings and regenerating the native forest. Scott has become a real advocate for conservation in the area. He has formed really strong relationships with the people he works with, feels good about his life, and has a much healthier mindset. He hardly drinks any alcohol these days.
Yet Scott is just one of the team that Highways & Byways supports. Every team member has a story.
Nathan was allocated to Todd's team to do community work – he is an Indigenous man who had lit a number of fires in the St Helen's township. He was very withdrawn and unfit, but through the work of the team, became much more engaged, fitter, he started eating better. He ended up getting a job as Parks Ranger in Cape York, North Queensland.
One of the other team members Tim had recently split up with his wife and spent a few months in jail. After working with the team his words were: "To be honest, it was all amazing to be out in amongst the trees, because I suffer from really bad anxiety and depression. So the employment just in itself was great, but there were the people too… I had support… you know, with my mental health, and I had some legal issues at the time. I didn't realize how good it would be for me to just be out in the bush, you know, we'd see eagles and water dragons. Just amazing… It was just life-changing, really was life- changing."
IMAGE (MAIN): The work crew at the Bay of Fires, from left to right: Scott, Nathan, Mark and Dan. 
DIAGRAM (INSERT): "2022 Ecological Restoration Activities and the Benefits for Human Health and Wellbeing: A report on the wellbeing impacts of North East Bioregional Network ecological restoration activities", Pauline Marsh, Emily Flies, Stuart Auckland & Dave Kendal, Healthy Landscapes Research Group, University of Tasmania, 2022.
IMAGE (BOTTOM INSERT): Dan, Mark and Scott at the airstrip revegetation site.